A substance abuse disorder can happen to anyone. Sometimes, people use drugs or drink specifically to get high, but this isn't always the case. Other people fall victim to addiction when they depend on pain medication to make it through the day. No matter how dependency starts, you or a loved one can get help for it. A men's rehab program could be the solution you're looking for.
Getting Help for Substance Abuse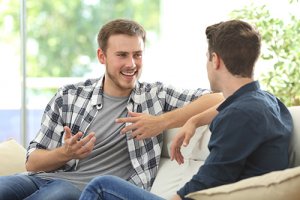 It's never easy to admit you have a problem with drugs or alcohol. Someone close to you may recognize the signs before you do. Typical signs of substance use disorder include:
Increasing tolerance for a substance
An inability to stop using or drinking
Poor decision-making due to use
Legal, financial, or personal problems due to use
Withdrawal from friends and family
People struggling with addiction continue to use despite suffering negative consequences. They may have DUI arrests or employment problems, but they're powerless to stop using.
What you need to know, for yourself or a loved one, is that help is out there, and it's waiting for you to take the next step.
How a Rehab Program for Men Can Benefit You
Rehab can give you a fresh start. A men's rehab program may be especially helpful for a few reasons.
In rehab, you'll attend therapy sessions, and some will be in a group setting. Men may feel more comfortable discussing certain topics in an all-male group.
Perhaps you want to talk about pressures that tend to affect men more, especially if you're a high-ranking professional or executive. Group participants who share your feelings will completely understand. They'll give you the support you need during this critical time.
Being able to open up and freely express yourself is very important during rehab. The more open you are, the easier it will be to uncover the core issues that led to substance abuse in the first place.
A men's rehab program can also give you the opportunity to bond with other men in your peer group. Instead of feeling alone, you'll make connections with people dealing with similar issues. You can share ideas and give them the same level of support they give you.
Rehab at The Dunes
Are you ready to overcome a substance use disorder? We can help. We're The Dunes of East Hampton, a luxury rehab treatment center that welcomes clientele from all over the world.
In our exclusive setting, we treat high-powered professionals and individuals who prefer privacy and discretion. Our premier facility is nestled on a secluded estate, where you can enjoy equine therapy, holistic therapy, and a range of enjoyable amenities.
Receive the treatment and accommodations you're used to. We believe that by providing a serene, relaxing environment, you'll be in the best frame of mind for recovery. Expect a lot of personal attention as we maintain a small staff-to-client ratio. Our licensed and experienced professionals will make your comfort and safety our top priorities.
Clinical treatment programs include:
Dialectical behavior therapy
Community integration
Addiction education
Relapse prevention
We help people overcome dependency on many substances, and we offer alcohol, opiate, prescription drug, and benzo addiction treatment.
Isn't it time to take control of your life? Don't let addiction rob you of a bright and healthy future. Our admissions team is available to take your call 24/7, so contact us today at 877-818-5539. It's time to begin your recovery toward a new life.